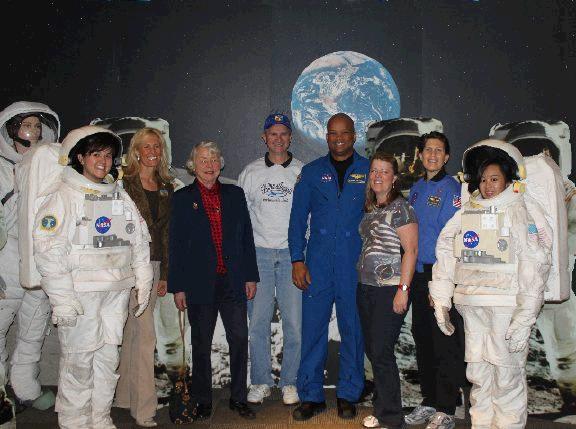 Artist Mimi Stuart, Buzz Aldrin's sister Fay Ann Potter and W Foundation co-founder
Debbie Wreyford with "Stepping Out" and "Blue & Gold"

Every year San Francisco's Fleet Week hosts the Blue Angels airshow over its glistening Bay, teeming with vessels of every size.
A tight-knit cluster of FA-18s in perfect formation, performing breathtaking maneuvers. As close as 18 inches apart, the pilots react with split second timing. Pulling up to 10 Gs without a G-suit is physically demanding work: just ask VIP passenger Ken "StockJock" Winans, co-founder of the W Foundatio. He was not allowed to wear sunglasses in the cockpit, because Blue Angels pilot Lt. Ben "Baxter" Walborn needs to watch his passengers' eyes in the rear view mirror to see if they start to black out.
The Angels' dedication attracts larger crowds every year. To honor these men and women in blue, artist Mimi Stuart created artwork for the Blue Angels Tailhook Reception aboard USS Hornet and the W Foundation's "Navy in Space" exhibit at Fort Mason in SF. The eight pilots and eight support staff were further feted by the Chairman's reception at Pier 39.
At W Foundation's "Navy in Space" Exhibit, Astronauts Dan Bursch and Robert Curbeam described their experiences in space to thousands of visitors from different countries. Fay Ann Potter, Buzz Aldrin's sister who gave Buzz his name, shared stories with astronauts and families. Children climbed into jet cockpits, sat in an F-14 ejector seat, touched Russian space suits, saw the Gemini capsule up close, raced robots and learned space maneuvers from NASA's Dr. Forforty. Event schedules: www.blueangels.com
http://www.blueangels.com and The W Foundation http://www.thewfoundation.org .
San Francisco Fleet Week
with W Foundation's "Navy in Space" Exhibit
W Foundation's "Navy in Space" Exhibit with Fay Ann Potter, W co-founder Ken Winans, Astronaut Robert
"Beamer" Curbeam, W co-founder Debbie Wreyford, NASA's Dr. Wendy Forforty and the spaceteam.
"StockJock" Winans with "Baxter" Walborn, Blue Angels #7